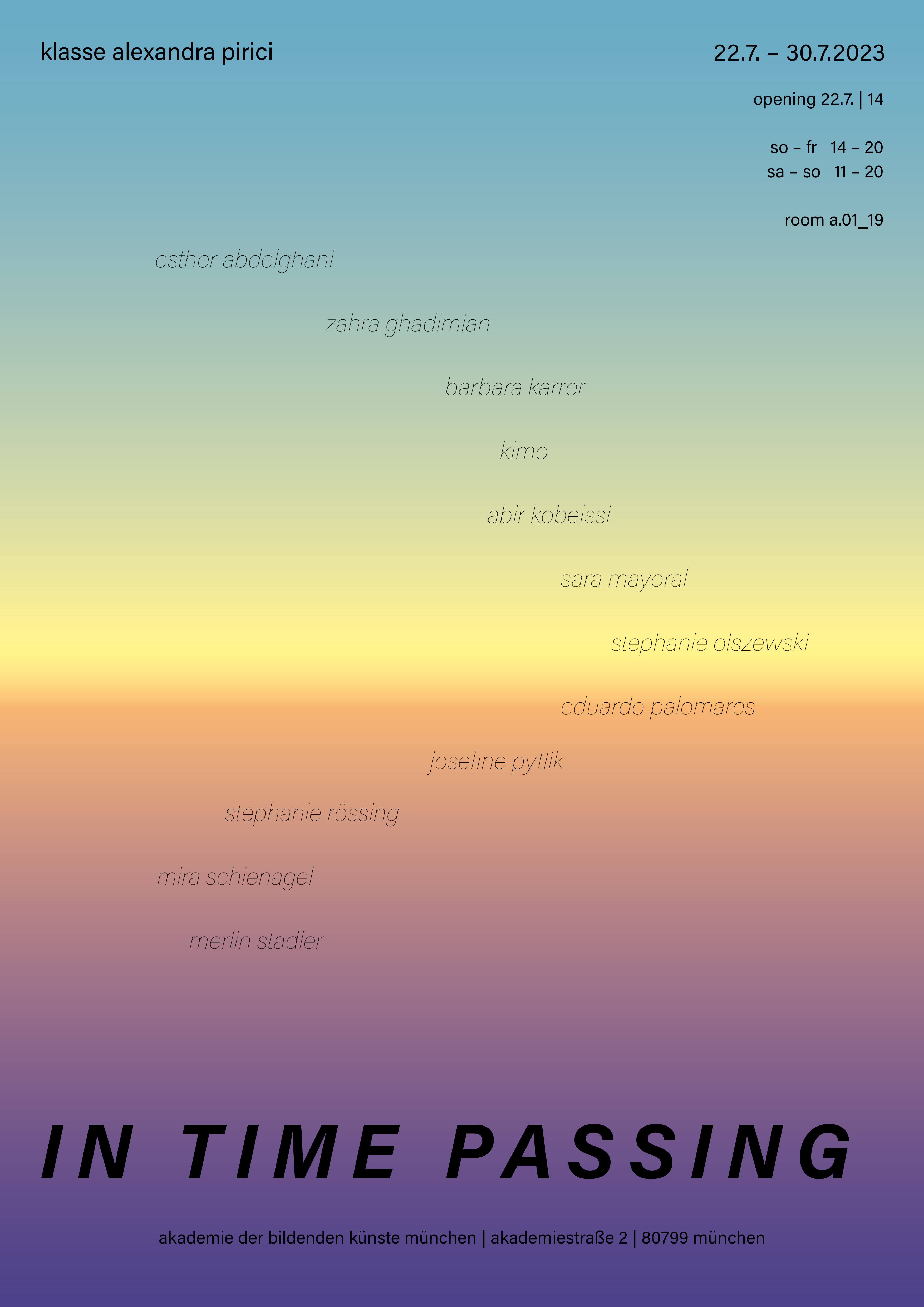 Abir Kobeissi, "Razzia", Performance
22.07.2023 Raum A 01.19
18:00 Uhr
29.07.2023 Raum A 01.19
18:00 Uhr
Zahra Ghadimian, "Hoch die internationale Solidarität", Action/ Performance:
22.07.2023, Vestibül 1. Stock
16:00 & 19:00 Uhr
25.07.2023, Vestibül 1. Stock
16:00 & 19:00 Uhr
27.07.2023, Vestibül 1. Stock
16:00 & 19:00 Uhr
29.07.2023, Vestibül 1. Stock
16:00 & 19:00 Uhr
30.07.2023, Vestibül 1. Stock 19:00 Uhr

Mira Schienagel, live knitting of a poem in binary code
22.07.2023, Raum A 01.19
15:30, 18:30 & 20:30 Uhr
23.07.2023, Raum A 01.19
15:30 & 18:30 Uhr
29.07.2023, Raum A 01.19
15:30 & 18:30 Uhr
30.07.2023 Raum A 01.19
15:30 & 18:30 Uhr
Esther Abdelghani, "Memoryspacetime", interaction with the object in the exhibition space
22.07.2023-30.07.2023, spontaneously
Klasse Alexandra Pirici
IN TIME PASSING is the first exhibition of the newly established Performance class: an existing class with a former focus on painting and drawing-now set up with a new focus-consisting of young artists working, in fact, in diverse mediums, displaying various degrees of performativity.
The exhibition reflects on and acknowledges process, movement and transformation, inevitable aspects of being in time-which bears on everything, including artworks. It brings together works that, even as they contain other layers of meaning, they all consciously register, particularize or are visibly changed by the passing of time in the course of the exhibition: they wilt or their material shifts to a different state; they reflect on memory, on changing bodies and changing economies; they appear in ever-changing configurations or look at various kinds of distortion and transformation-of language, image or the concept of space itself.
Beyond a traditional view of the artwork as needing constant preservation, protection and removal from time and its environment, the works in the exhibition "In Time Passing" incorporate and celebrate change, cycles of circulation and porous borders with their surroundings and with each other.
Alexandra Pirici
IN TIME PASSING ist die erste Ausstellung der neu gegründeten Performance-Klasse: einer
Klasse für vormals Malerei und Zeichnung, die nun einen neuen Schwerpunkt setzt. Sie be-
steht aus jungen Künstler:innen, die in verschiedenen Medien arbeiten und unterschiedliche
Grade von Performativität präsentieren.
Die Ausstellung reflektiert und erörtert den Prozess, die Bewegung und die Transformation,
die unvermeidliche Aspekte des Seins in der Zeit sind und sich auf alles, auch auf die Kunst-
werke, auswirken. Sie versammelt Werke, die, auch wenn sie andere Bedeutungsebenen ent-
halten, das Vergehen der Zeit während der Ausstellung bewusst spezifizieren und registrieren
oder sich sogar sichtbar verändern: Die Werke verwelken oder ihr Material geht in einen an-
deren Zustand über; sie reflektieren über Erinnerung, über sich verändernde Körper und sich
verändernde Ökonomien; sie erscheinen in sich ständig verändernden Konfigurationen oder
betrachten verschiedene Arten von Verzerrung und Transformation – von Sprache, Bild oder
dem Konzept des Raums selbst.
Jenseits einer traditionellen Auffassung vom Kunstwerk, das stets bewahrt, geschützt und von
der Zeit und seiner Umgebung entfernt werden muss, beziehen die Werke in der Ausstellung
In Time Passing den Wandel, zyklische Abläufe und die durchlässigen Grenzen zu ihrer Um-
gebung und untereinander ein und würdigen sie.
Alexandra Pirici (Übersetzung: Stephanie Rössing)